With the popularity of technical rebreather diving increasing rapidly and more and more travelling divers seeking new and exciting destinations where they can partake in training, experience as well as enjoying their chosen specialized form of diving, it has become apparent to us that we need to support you. So that in turn you can make the best recommendations for your customers to keep satisfaction and standards at its highest.
Bali Dive Trek is a rebreather training facility. We offer some high quality training on Inspiration / Evolution (APD), rEvo and Poseidon.
Divers wishing to participate in training will require equipment which may or may not be included in the price of the training program. If the training program is excluding equipment, equipment may be hired in resort (for more information see the individual course outlines and contact us directly).
Bali Dive Trek operates a strict MAXIMUM depth policy of 100m regardless of whether divers are diving or participating in training (certification levels allowing).
Bali Dive Trek is Bali's PREMIER full technical and rebreather support center as well as Instructor Training Facility. The courses on offer cater to the inexperienced who desires getting more out of their diving by moving into tech up to the divers wishing to further their knowledge and level of mixed gas exploration. Below you will find a list of core technical courses that are on offer.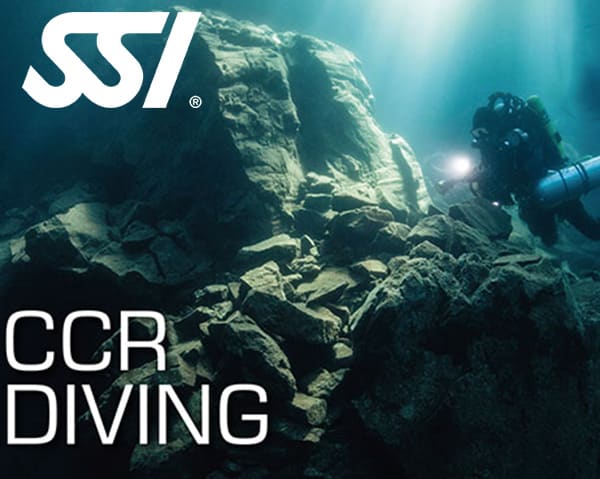 Rebreather Try Drive / Rebreather Action Day
1 Day
Rebreather try dive or the action day offers divers who have no experience with rebreathers to find out more about this revolutionary style of diving. It is an easy, safe and highly addictive way to try silent diving. Divers are given a theoretical overview of rebreathers, the types, what they do and the mechanical principals behind them before taking part in either 1 or 2 dives with an instructor. The costs cover everything including the unit and diving. Easily done in the afternoon or on your last day the decision is one or two dives?
2.500 K IDR
Closed Circuit Rebreather Diver (CCR MOD 1)
6 Days
This is the entry level user certification for safely planning and executing rebreather dives. Divers will be guided through such skills as.
Correct assembly and failure checks

Calibration

Basic maintenance

Cleaning and disinfecting

Risk analysis and awareness

Emergency procedures

Rebreather Dive Planning

Open Circuit Bail-out considerations and calculations
This course takes 8 dives and includes Air, Nitrox and Oxygen.
Units available for training on: Evolution/Inspiration, rEvo III, Poseidon Mk6/Se7en
18.000 K IDR
Normoxic Trimix CCR Diver (CCR MOD 2)
6 Days
This program covers the necessary information for CCR divers to conduct dives with their rebreathers using trimix as a diluents gas to depths of maximum 60m with an open ended decompression envelope. This program builds on skills already learnt in the basic rebreather course as well as developing more advanced diving techniques, skills and knowledge. Topics covered include:
"Best mix" calculation

Dive planning and decompression management

Open Circuit Bail-out considerations

Team Bail-out principles

END planning and management

And many more.
| | |
| --- | --- |
| Duration: | 6 Days |
| Course outlines: | 4 theory modules (approximately 1 hour per module),total 8 dives, 5 with trimix |
| Prerequisite: | minimum 18 years old, minimum 100 logged scuba dives, minimum 20 logged ccr dives with a minimum of 25 hours on the unit |
| Note: | Exclude: Rebreather unit, Absorbent and Helium |
Units where training can be conducted on: Evolution/Inspiration, rEvo, Poseidon Mk6/Se7en
23.500 K IDR
Trimix CCR Diver (CCR MOD 3)
8 Days
The Trimix CCR Diver program is the pinnacle of underwater exploration. In the last few years nearly all of the world's cutting edge exploratory dives in wrecks, caves and the depths of the abyss have been conducted using rebreathers. As a certified Trimix CCR Diver your are allowed to conduct mixed gas dives to a maximum of 100m with an open ended decompression requirement. During diver training our highly experienced team will ensure that the individual's level of knowledge and skill is able to conduct such extreme dives. Our team will be evaluating such things as skill proficiency, risk awareness, equipment handling, dive planning and gas consumption calculations before testing reactions with realistic emergency scenarios. A few try, not all succeed.
| | |
| --- | --- |
| Duration: | 8 Days |
| Course Outline: | 4 Theory Modules (approximately 4 hours per module), 10 dives, 5 using trimix |
| Prerequisite: | Minimum 18 years old, Normoxic trimix diver, minimum 200 logged scuba dives, minimum 50 hours logged with a CCR |
| Note: | Exclude CCR unit, absorbant and helium |
26.500 K IDR
CCR MOD 2 & 3 Combo
3 Days
We offer the CCR mod 2 and 3 training in combo. This course is based on 9 days – 12 Dives and you need to satisfy to the prerequisite of the mod 3.
35.000 K IDR
Guided CCR Dives
Rebreather Rental. For those divers not wanting to carry their rebreathers with them on

  

a long distance trip take advantage of our fleet of top of the range rental units (Evolution, rEvo and Poseidon Mk6/Se7en)
Rebreather cylinders. We stock rebreather cylinders compatible with most rebreathers (payment in resort).
Absorbent and spares. We stock DiveLime 812 (prices may vary depending on exchange rate, payable in resort) as well as spares for most rebreathers including cells and batteries (payable in resort)
Trimix/Nitrox/O2 on tap. Our gas logistics facility is driven by an oxygen booster supplying gas to 230bar. Standard gases available (gas costs payable in resort)
Dedicated technical and rebreather storage and set-up area.
Dedicated technical and rebreather boats (where possible) carrying oxygen and emergency decompression gas. Highly trained and technically experienced crews maximizing absolute safety
Re-compression chamber (45mins drive away)
Twin sets and stage cylinders rigged a ready to rock (payable in resort)
Technical and Rebreather guides available.
Expert advice on hand
Workshop facilities
FREE WiFi
Top quality rental equipment from leading brands
These are just some of the reasons why Bali Dive Trek  is the PREMIER technical and rebreather diving facility on Bali. Technical and rebreather diving by divers for divers.
We offer guided CCR dives for certified divers to the limit of your training. The price of these dives depends on the level of your training. All dives include on board gas (except for helium).
Renting a DPV for certified DPV divers is also an option for an additional 630.000 IDR per day.
All of these prices do not include: Pump Fees, Helium, or Absorbent.
MOD 1 – 770 K IDR / MOD 2 – 1.450 K IDR / MOD 3 – 1.850 K IDR
PRICES ARE PER DIVE AND DO NOT INCLUDE OTHER FEES